Frequently Asked Questions
Frequently Asked Questions
Click the icon beside each question to see the answers to the most frequently asked questions.
What is/are WedTexts?
WedTexts is an iOS and Android (and web-based) application that enables anyone planning a wedding to effortlessly communicate with wedding guests in order to enhance the guest experience.
WedTexts allows Brides, Grooms, Partners, and Planners to input guests' cell phone numbers, manage unlimited groups and create unlimited helpful wedding reminders to be sent out throughout the entire wedding planning process.
What are wedding text messages?
Wedding text messages and wedding reminders are text messages sent directly to your wedding guests' cell phones.
This way, everyone knows the wedding timeline, you can quickly save the day if last-minute changes occur, and your stress levels to a minimum know it was all pre-scheduled ahead of your wedding weekend! 
Here at WedTexts, we refer to wedding reminders and wedding text messages as "WedTexts." (hints the company name)
So basically, you use the WedTexts app to send WedTexts, get it?
Why would I pay to send text messages?
To save money you could send your wedding guests texts from your personal cell phone number, without WedTexts during your wedding weekend, but you'll run into four issues:
You can't pre-schedule your texts, which will take away from your experience during your special celebrations.

Your cell phone will cap the number of people you can text at 30, so you'll need multiple groups to include everyone.

Your guests hate being on group texts. They want to lose track of the important details when they get buried in unnecessary text replies.

Guests can reply directly back to your cell phone number, which means you have to field all of their

annoying questions

instead of enjoying your wedding.
Did you know, 95% of text messages are read within 3 minutes. 
We can't think of any better way to make sure your guests have all your wedding details handy, then by sending them a WedTexts.
When should I use WedTexts in my wedding planning process?
As early as possible!  
Because WedTexts is an easy one-time payment, you get the most value from using WedTexts the day you get engaged. You can start by letting everyone know you said yes! 
Truthfully, wedding couples get more and more value the closer they get to their wedding day.
The first big events wedding couples send WedTexts are for the engagement party, RSVP reminders, and sending save-the-dates.
But, no matter what time you start sending wedding text messages, you can send them all the way through your wedding ceremony and until one month past your wedding date!
This way, you can send your wedding guests and vendors a thank you message. 😉
What types of weddings should use WedTexts?
We may be a little biased, but we think every wedding should use WedTexts! 
That being said, our users feel WedTexts shines best for when one family is from out of town, destination weddings, beach weddings, outdoor weddings, or for any wedding that wants to have their guests remember their wedding for years to come.
WedTexts has been used for intimate weddings of less than 20 people and mega weddings with over 300 wedding guests!
What is WedTexts' refund policy?
We guarantee you and your guests will love WedTexts! But if for any reason you are not satisfied with WedTexts, we give you a 30-day, 100% money-back guarantee!
To request a refund, contact our support before 30-days are up and we'll issue your refund, ASAP, no reason necessary.
Please allow 3-5 business days for the funds to clear in your bank account - sorry, but we can't speed this part of the process up. ☹️
What if some of my guests do not want to receive text messages?
Your WedTexts experience and the experience of your wedding guests are our top priority. To ensure we do not bother anyone with unwanted texts, the first message your guests receive will look like this: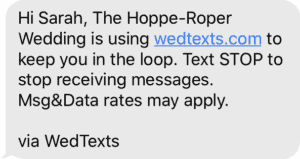 This message is important for 3 reasons:
We want your guests to be excited about receiving your WedTexts messages! So we customize it for each of your guests, and we let them know who is sending the messages!

Even in today's world, there are a few guests that might not have unlimited text messaging, so we want to be sure to let your guests know they can opt-out of any future WedTexts messages by texting STOP.

There are many rules and regulations around group text messaging. This helps ensure we all stay compliant!
How do most people use WedTexts?
You can use WedTexts for all sorts of events. Here's a sample list of some common uses:
Send guests timely information regarding wedding events, everyone knows the wedding timeline.

Proactively answer guests' questions before they even have to ask.

Share key information with guests to help keep wedding festivities running smoothly.

Pre-schedule important information such as the start time, date, and location of specific events, such as the name and address of the ceremony venue, so guests can simply click an address link and be giving directions to your event.

Remind your guests ahead of each event to make sure everyone is on time.

Send wedding reminders about engagement parties, bridal showers, after wedding brunch, and more...

Communicate with large, unique groups of wedding guests, so everyone gets only the information they need when they need it.

Send wedding text messages for Bachelor and Bachelorette parties so important information doesn't get lost in endless gifs and emojis in your group texts.

And sooo more!
What if I do not have all my guests' numbers?
If you don't, we're sure someone else does. 
We've found that outside of your immediate friend groups, whose phone numbers you can easily access, finding family member's phone numbers is as easy as giving your parents or grandparent's a call...seriously! 
There's a good chance they still have a Rolodex that even contains your first-grade teacher's phone number!
What is the purpose of creating groups?
Not all wedding text messages need to be sent to the entire wedding guest list. 
And, to make sure that each wedding guest is getting only the info that is important to them, WedTexts allows you to create unlimited groups!
Some examples of common groups:
Family

Brides Party

Grooms Party

Hotels

Out of Town

Engagement Party

Bridal Shower

Etc...
Once a message is scheduled, can I edit it?
Yes!
Once a message is scheduled you can edit or delete the message. 
You can edit the contents of the message and all the details of the message before it is sent out to your wedding guest. 
Say your rehearsal dinner got moved from 6pm to 6:30pm? 
No problem! 
Simply edit your rehearsal reminder and click Save.
Changed your mind about only having the wedding party at the first look picture session to now also including family too? 
Easy peasy! 
Simply add the "Family" group to the first look reminder message and click save!
Rehearsal dinner got moved from 6pm to 6:30pm? No problem! Simply edit your rehearsal reminder and click save.
Changed your mind about only having the wedding party at the first look picture session to now also including family too? Easy peasy. Simply add the "Family" group to the first look reminder message and click Save!
Does WedTexts work outside of the United States?
We can only guarantee that our service will work in the U.S. for U.S. cell phone numbers.
That being said, our service works for U.S. cell phone numbers outside of the United States if the cell phone can receive text messages abroad. 
Whether the cell phone can receive an iMessage or RCS messages and is connected wifi, data, or has an international cell phone plan.
Can more than one person schedule messages?
Yes!
Each one of our paid WedTexts packages can have up to three users added to the WedTexts account (free accounts get two users). 
This means that you, your fiance, and/or planner (or trusted friend) can all be added to your WedTexts account. 
Each of you can add guests, manage groups, and schedule all your helpful wedding reminders.
How long does it take to schedule my WedTexts reminders?
Scheduling your wedding text messages is a breeze! 
If you know all the details of your events you can schedule all your reminders in 5 minutes or less with the WedTexts Easy-Fill© Templates!
Can I send reminders to my wedding party?
Can I send out messages instantly without pre-scheduling them?
Yes!
All WedTexts accounts allow for unlimited pre-scheduled messages AND unlimited real-time messages that you can send out in a matter of seconds.
WedTexts is FREE to Use With Your Entire Wedding Party!
Keep your wedding party informed by sending them unlimited, pre-scheduled reminders and unlimited, real-time messages for free! -- Sent directly to their cell phone via SMS (no-app needed). 
Columbia, SC
©Copyright 2019 WedTexts - All rights reserved